The gigantic structure, nicknamed King Ghidorah, has been identified 5.5 billion light-years from Earth.
Some 5.5 billion light-years away, a team of Japanese astronomers has discovered a new supercluster of galaxies. It is one of the most massive ever identified: its main structure has 10,000 trillion times the mass of the Sun. Despite this, it is still not as much as Lainakea, to which the Milky Way belongs, which has 100,000 trillion solar masses.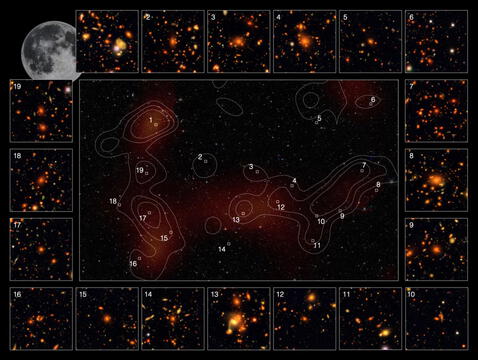 At the center, the King Ghidorah galaxy supercluster and, at the edges, the 19 galaxy clusters linked to it. The Moon appears in a corner to compare the size of the structure in real scale. Photo: NOAH
named as King Ghidorah Named after a fictional monster from Japanese movies, the Galaxy Supercluster contains at least 19 associated galaxy clusters, spread over an area of ​​the sky roughly the size of 15 full Moons. The finding has been published in the Monthly Notices of the Royal Astronomical Society.
Galaxy clusters, groupings of millions of galaxies, are one of the largest structures in the universe. The Milky Way, for example, is located within Virgo, but at the same time it is part of an even larger grouping: the Lainakea galactic supercluster.
Although superclusters extend over an area of ​​about 100 megaparsecs (about 500 times the size of the Milky Way), their definition itself remains ambiguous. Meanwhile, her true nature and what happens inside her remain shrouded in mystery.
The King Ghidorah Galactic Supercluster
The Subaru Telescope's Hyper Suprime-Cam (HSC), an instrument operated by the National Astronomy Observatory of Japan (NAOJ), surveyed the cosmos in an area equivalent to 4,400 times the apparent size of the full Moon and to a depth reaching more than 10,000 million light years. The high-quality imaging data obtained with this program is currently the best resource for searching for unknown superclusters of galaxies, they report in a statement.
The research team examined the total stellar mass and the distribution of dark matter in the largest density excesses among the nearly 100 supercluster candidates, which were discovered by the same group in the past.
As a result, it detected a structure of this nature made up of at least 19 galaxy clusters centered in three dark matter-dense regions.
Comparison with cosmological simulations suggests that it has a mass of dark matter about 10 times that of Virgo in the local universe. In addition, two gigantic supercluster-equivalent structures have been identified immediately outside the cluster, meaning the discovery may be a precursor to other huge objects in the cosmos.
Lead author Dr. Rhythm Shimakawa, Project Assistant Professor at NAOJ, states: "In fact, the probability of finding such a supercluster, about 5.5 billion light-years away, was 50% based on the results." data from the Subaru Telescope Strategic Program. We plan to further investigate the three-dimensional structure and morphology of galaxies using instruments such as the Subaru Telescope's Wide Field Spectrograph (PFS) and the Euclid Space Telescope in the near future."
With information from Europa Press